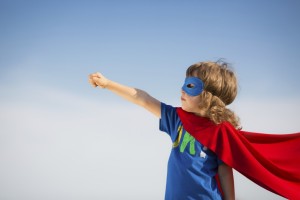 It's that time of the year again. The dreaded cold / flu virus is lurking around the corner and as parents we know that having a sick child in the house is certainly not fun and usually results in the whole household becoming sick as well. So how can you help support your child's immunity this winter?
Gut, Immunity and Probiotic Supplementation
Firstly by supporting your child's digestive system!! Yes this may sound unusual but did you know that approximately 70% of your immune cells live within the digestive tract, therefore taking good care of your child's digestive system will go a long way to improving and enhancing their immunity. One study looked at the efficacy of probiotic supplementation and reducing common winter illnesses in children aged 3-7 years old. The results showed that 3 month probiotic supplementation was effective in decreasing the risk of common, infectious diseases in children and reduced days absent from school.
Herbs and nutrients also play an important role in supporting childhood immunity. Natural remedies will aid in providing symptomatic relief as well as addressing the underlying immune imbalances.
My 5 favourite go to natural remedies I use to support childhood immunity.
Echinacea: Possibly the best herb for preventing infections! With its immune enhancing and immune modulating actions, it was traditionally used to treat upper respiratory tract infections.  Echinacea is the ideal herb to support your child's immunity.
Pelargonium: An African herb with antibacterial and immune modulating properties. There is a large amount of evidence to support this herbs use in acute bronchitis. Other clinical studies on children have found pelargonium to be beneficial in the management of acute tonsillopharyngitis.
Vitamin D: Is crucial to activating the immune system and without sufficient amounts of vitamin D your immune system is unable to react to and fight off infections. One clinical study found that supplementing children with Vitamin D during winter was effective in reducing the incidence of influenza A. Good sources of vitamin D include: healthy sun exposure, salmon, sardines, egg yolks and cod liver oil.
Vitamin C: A potent antioxidant with immune stimulating and antihistamine properties. Vitamin C is indicated for upper respiratory tract infections, allergies and to improve lung function. Good sources of vitamin c include: strawberries, pineapple, kiwi fruit, oranges, papaya and capsicum.
Zinc: Over 300 enzymes in the body are reliant on zinc for its function making this a very important mineral. Zinc is involved in many aspects of the immune system including the development and function of the immune cells. Clinical studies have shown the efficacy of vitamin c and zinc supplementation in reducing the incidence and improving outcome in malaria, pneumonia and diarrhoea infections in children. Good sources of zinc include: Oysters, beef, turkey, spinach, cashews and pumpkin seeds
You can further support your child's immunity by ensuring they are getting plenty of healthy wholesome foods, enough sleep and keep inflammatory foods such as sugars, white bread, soft drinks, cakes and dairy to a minimum.
Children are constantly exposed to viruses and bugs especially when attending school and day care. Having a child that is always sick effects the whole family so if you are concerned about your child's immunity or wish to know how you can boost your child's immune system this winter then book in a complementary naturopathic assessment at Karrinyup Wellness Centre.
Have a healthy happy 2016 winter!
Natasha Norton BHSc (Nat)
References:
Cazzola M1, Pham-Thi N, Kerihuel JC, Durand H, Bohbot S Epub 2010 Aug 20. 'Efficacy of a synbiotic supplementation in the prevention of common winter diseases in children: a randomized, double-blind, placebo-controlled pilot study.' Ther Adv Respir Dis. 2010 Oct;4(5):271-8
Braun, L & Cohen, M 2007, Herbs & Natural Supplements An evidence-based guide 2nd edi, Elsevier, Marrickville, NSW
Mitsuyoshi Urashima, Takaaki Segawa, Minoru Okazaki, Mana Kurihara, Yasuyuki Wada, and Hiroyuki Ida,2009 Randomized trial of vitamin D supplementation to prevent seasonal influenza A in schoolchildren, Am J Clin Nutr 2010 91: 5 1255-1260
Santich, R & Bone, K 2008, Healthy Children Optimising Children's Health With Herbs, Phytotherapy Press, Warwick, QLD
University of Copenhagen 2010, Vitamin D crucial to activating immune defences, ScienceDaily, www.sciencedaily.com/releases/2010/03/100307215534.htm
Wintergerst, E.S. Maggini, S Hornig, D.H 2006, Immune-Enhancing Role of Vitamin C and Zinc and Effect on Clinical Conditions, Bayer Consumer Care Ltd., Basel, and bReinach, Switzerlan, Ann Nutr Metab 2006;50:85–94