Regardless of age, your most valuable asset is your health.
Many seniors are unaware of the remarkable benefits that are possible through chiropractic care. Elderly citizens benefit greatly from chiropractic's conservative, drug free approach. Improving mobility and flexibility becomes even more important as our bodies age. Whether it be for the relief of arthritic pain, to keep up with the grand kids or to improve their golf swing, many seniors appreciate the difference chiropractic care makes to their lives on a daily basis.
Is Chiropractic safe for Seniors?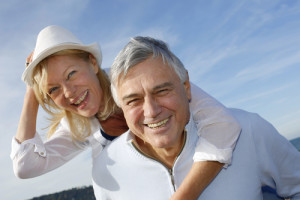 Some senior patients initially think that chiropractic is unsafe for their age group. In fact, elderly patients are often the most grateful patients, receiving much needed relief from back and neck aches, arthritic pain, headaches and sleep problems. Chiropractic care is tailored for each specific patient and their condition and is safe for those with arthritis or low bone density and osteoporosis.
Knowing what technique and level of force to apply to each patient is what our experienced chiropractors are trained in. 
Regardless of age, regular exercise, a healthy lifestyle and chiropractic care will help preserve your body and slow down the effects of aging.
 Benefits of chiropractic for seniors
Natural Pain relief. Medications such as anti-inflamatories and pain relievers mask the problems and cause side effects. Enjoy pain relief with chiropractic but without drugs and side- effects.
Increased range of motion of the spine and extremities. Chiropractic care has been shown repeatedly to increase not only the range of motion of the spine but also in the extremities enabling many to be doing what they love to do . For some this means being able to pick up the grandkids or simply being able to turn to reverse the car.
Better Balance and coordination. Many problems in balance and coordination in the aging population have been shown to come from injury or degenerative changes to the cervical spine (neck region). Studies have shown that chiropractic care can help restore balance and coordination by stimulating the joint receptors (mechanoreceptors) in the cervical spine. (Caranasos, MD, Isreal, MD. Gait Disorders in the Elderly. Hospital Practice. 1991; June 15:67-94.Guyton, MD. Textbook of Medical Physiology. 9th edition. WB Saunders, Philadelphia 1996; 714.)
Reduce joint degeneration (arthritis). A subluxated (misaligned) spine is similar to a misaligned tyre on a car. Just as tires that are out of alignment will wear out sooner than they should, so will your joints if they are out of alignment or not moving properly. Most of us recognize the need to bring our vehicles in for regular maintenance. It is also necessary to do the same for our bodies. Regular chiropractic care decreases spinal degeneration and other arthritic changes by normalizing the spinal alignment and can prevent the parts of our bodies that move from wearing out over time.
Decreased incidence of falling. Injuries due to falling are extremely common in the elderly population. Chiropractors reduce the risk of falls by normalizing the mechanoreceptors of the cervical spine. They also prescribe stretching and exercise programs to increase strength, flexibility, mobility, balance and coordination.
Improved wellbeing. Studies show elderly chiropractic patients were more likely to exercise vigorously and more likely to be mobile in the community doing the things they enjoy most. Patients find that with a reduction of pain and improved spine and nervous system function they feel great. (Coulter ID, Hurwitz EL, Aronow HU et al, Topics in Clinical Chiropractic 1996)
We look after clients ranging from just days old to over 90 years old. Although our techniques vary greatly, our aim is still the same. We want to ensure healthy and correct spinal and nervous system function to enable each individual to be at their best.