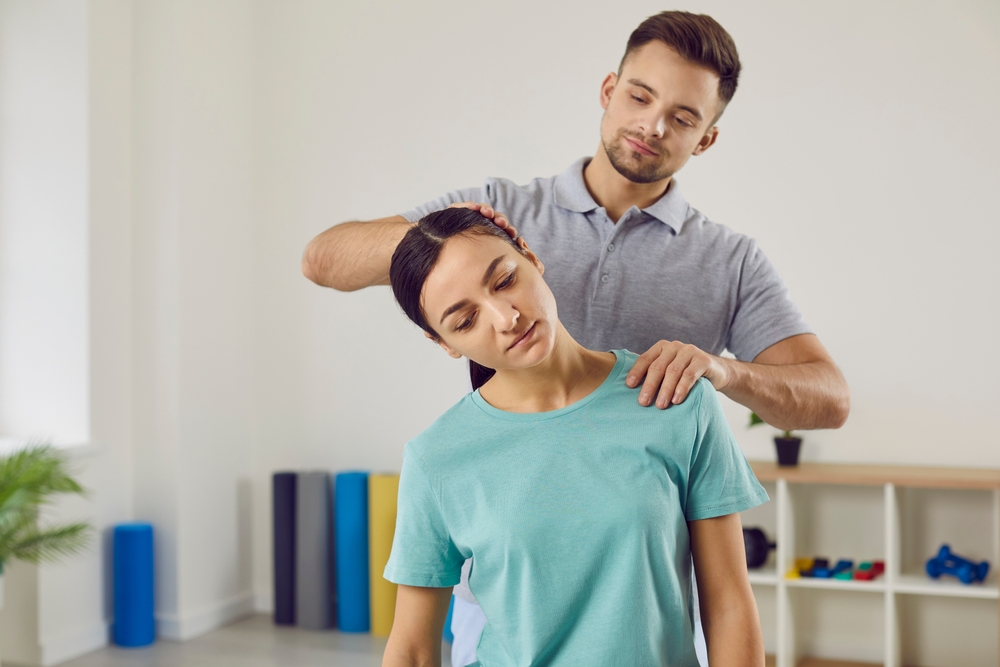 The cervical spine, or our neck, begins at the base of the skull and consists of seven small vertebrae. Incredibly, the neck supports the full weight of your head, which is about 5.5kg on average. As the neck helps move your head in nearly every direction, this flexibility and range of motion make the neck very susceptible to pain and injury. 
Activities like repetitive movement, accidents, falls and blows to the head, normal ageing, and everyday wear and tear can cause neck insults resulting in pain. It can be very bothersome, and here are some of the most typical causes of neck pain: 
Stiff neck muscles 

Poor posture 

Sleeping positions 

Injury 

Herniated disc 
Many people complain of neck pain and headaches at the same time, due to reason that a stiff neck can be a cause of headaches. Many neck problems can irritate, compress, or strain the nerves in the neck, triggering a headache. 
Apart from poor posture and injury, neck pain could be caused by certain medical conditions, including a pinched nerve or herniated cervical disk. 
Headaches caused by a neck problem 
Injury, inflammation, and chronic neck tension might sometimes play their part in causing headaches. Some of the headaches that might root from neck insults are: 
Cervicogenic headache (CGH) 
Cervicogenic headaches are secondary headaches, which occur due to other issues such as neck problems. Some of the commonly encountered causes of cervicogenic headaches are: 
As the cervical nerves relay pain signals, neck problems can trigger cervicogenic headaches, which might result in pain, nausea, stiffness, increased photosensitivity, and blurred vision. 
Occipital neuralgia 
It is a kind of headache characterised by throbbing pain, which stems from the neck and moves upwards. This kind of headache involves the back of the head, forehead, scalp, and behind the eyes or ears. This could be due to problems like: 
Headaches that may cause neck pain
In some cases, certain headaches might contribute to neck pain. These conditions are: 
Tension headache, which might result in the tightening of muscles at the back of your neck and the base of your skull. 

Migraine is often associated with throbbing pain in the head or neck. 
How do chiropractors treat neck pain?  
The knowledgeable and extensively trained chiropractors at Karrinyup Wellness Centre are all incredibly adept at applying chiropractic techniques to alleviate head and neck pain. We'll work with you to understand the cause of your headaches and find the chiropractic routine that helps keep you pain-free. Chiropractic is a therapy that enhances a patient's neuromusculoskeletal system and helps manage pain through the use of spinal adjustments to maintain good function – this allows for optimal nervous system function. 
Spinal manipulation is an effective treatment option for many pain and symptom sufferers. Chiropractic adjustments can help improve acute and chronic neck pain, which can reduce the number of headaches you experience — whether they are migraines, tension headaches, or one of the multiple other categories of headaches. 
Using the targeted methodology, the alignment of your spine is adjusted to improve spinal function and alleviate stress on the nervous system. This allows your body to function optimally and reduces stress and tension buildup. 
Chiropractic techniques for neck pain 
A combination of spinal manipulation, manual therapy, and other techniques is used to treat neck pain. These are some spinal manipulation techniques that may be used: 
Distraction/Traction technique: It is a hands-on spinal manipulation involving a pulling/traction action on the intervertebral disc rather than using any direct force. 

Instrument-assisted manipulation: It uses a hand-held instrument to apply force without thrusting into the spine. 

Specific spinal manipulation: It helps restore joint movement with a gentle thrusting technique. 
Some manual therapies can also be used to treat neck pain like: 
Instrument-assisted soft tissue therapy 

Manual joint stretching and resistance techniques 

Therapeutic massage 

Trigger point therapy 
All of these techniques are offered at Karrinyup Wellness Centre through our chiropractic or massage teams.
How can chiropractors help with headaches? 
Chiropractic has been proven to be of great help in assessing, diagnosing, and managing headaches. Current evidence suggests that chiropractic care is very effective in treating cervicogenic and tension headaches. Studies have also shown chiropractic care to aid with managing the intensity and frequency of migraines. 
The treatment options include: 
Manual therapy like spinal manipulation, joint mobilisation and deep neck flexion exercises. 

Soft tissue therapy like neuromuscular massage and Low-load craniocervical mobilisation 

Modalities like electrical stimulation and ultrasound 

Rehabilitation with Lifestyle changes and education 
The treatments listed above are some examples of possible chiropractic treatments for neck and head pain; your treatment plan will be curated according to your assessment and diagnosis. If you are looking for chiropractic care you can get a consultation and discuss the treatment options you have, especially if you are local to Perth or Karrinyup. A combination of therapies will likely help ease your neck and head pain—and finding the right combination might require some patience and persistence. 
References: 
Haas M, Bronfort G, Evans R, et al. Dose-response and efficacy of spinal manipulation for care of cervicogenic headache: a dual-centre randomized controlled trial. Spine J. 2018;18(10):1741-1754. doi:10.1016/j.spinee.2018.02.01 
Posadzki P, Ernst E. Spinal manipulations for the treatment of migraine: a systematic review of randomized clinical trials. Cephalalgia. 2011;31(8):964-70. doi:10.1177/0333102411405226 
Moore, C., Leaver, A., Sibbritt, D. et al. The management of common recurrent headaches by chiropractors: a descriptive analysis of a nationally representative survey. BMC Neurol. 2018;18(1):171. doi: 10.1186/s12883-018-1173-6 
Chaibi A, Benth JŠ, Tuchin PJ, Russell MB. Chiropractic spinal manipulative therapy for migraine: a three-armed, single-blinded, placebo, randomized controlled trial. Eur J Neurol. 2017 Jan;24(1):143-153. doi:10.1111/ene.13166 
https://www.ncbi.nlm.nih.gov/books/NBK507862/ 
https://pubmed.ncbi.nlm.nih.gov/25659245/
https://bmcneurol.biomedcentral.com/articles/10.1186/s12883-018-1173-6 Haldeman S. Principles and Practice of Chiropractic. York, PA: McGraw-Hill; 2005. https://www.webmd.com/a-to-z-guides/what-is-chiropracto