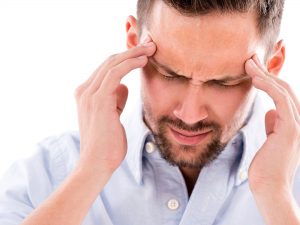 If you are a sufferer of headaches you are not alone; it is estimated that almost half of the adult population of Australians have suffered from a headache at least once in the last year (with females being a higher concentration of that percentage)1.
One Melbourne study found that 87% of it's participants had suffered from a headache in the past year1.
Some headaches are intense, some are dull, some people get them frequently, some only occur during times of stress and some can be debilitating with symptoms of pain and nausea. 
When we get these headaches we are often influenced by the countless adverts pushing painkillers and anti-inflammatory medication to dampen those pain signals  – but there ARE alternative ways to ease the pain of a headache.
Consulting your chiropractor about headaches
Getting a complete assessment by your chiropractor is always my first piece of advice when discussing headache symptoms with family or friends. It is during an assessment that your chiro can elicit potential causes or triggers for your headaches, and even certain physical deficits or compensations that might make you more prone to suffering from headache symptoms.
Once you have been assessed, and deemed to be a suitable candidate for chiropractic care, it can be reassuring to know that recent studies have shown that chiropractic adjusting is in fact a recommended therapy for headaches due to its efficacy in reducing the painful symptoms (for migraines and cervicogenic headaches in particular)2.
Eliminate those headache triggers!
As well as providing in-room care to correct and support the function of your spine and nervous system, your chiropractor will also likely discuss other ways you can adapt or change your daily habits to decrease the undesirable effects that some activities can have on the body.
Some of the more common causes of neck pain and headaches are listed below. 
How many of these bad habits do you do that you can change about your day-to-day activities?
Hunching forward at your computer for longer than 15 minutes
Craning your neck down to look at your phone
Wedging your phone between your ear and your shoulder on a phone call
Working from a seated position for hours without taking breaks or walking around
Not drinking enough water
Working from a poorly set up station (ie. Screen too low/too high, desk too low/too high, chair not set up well or giving no support)
High stress levels (and no meditation or exercise for balance)
Not getting enough sleep
Using a pillow or mattress that is not suited to supporting your neck in your chosen sleeping position  *sleeping on your stomach is not ideal
Having children (not a lot your chiro can do about this, but you can get 15 minutes peace when you or your child are in for your check-ups)
If you can identify with any, or ALL of these habits – which can be the case for some people, that apply to your daily life then it is a good idea to chat to your chiro about strategies to minimise their impact on you and your health. 
As we deal with the effects of these stressors with our patients every day, we can often drastically decrease the frequency and intensity of various headaches with skilful adjusting coupled with daily at-home/at-work strategies and exercises. 
Dr Sean Laurie
Chiropractor

REFERENCES
Prevalence of headache and migraine in an Australian city- J. Heywood, T. Colgan, and C. Coffey- Journal of Clinical Neuroscience (1998) 5(4), 485.
Bryans R, Descarreaux M, Duranleau M, et al. Evidence based guidelines for the chiropractic treatment of adults with headache. J Manipulative Physiol Ther 2011; 34: 274-89.