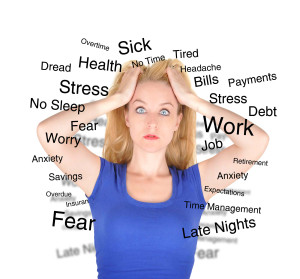 Did you know that Stress is the underlying cause of more than 60% of all human illnesses and diseases!!! Lifeline's 2012 Stress Poll demonstrates that 91% of Australians are experiencing stress and 43% are experiencing unhealthy levels of stress.
Stress can be detrimental to our health and it doesn't matter if it is big stress or a little stress the body still responds the same. Chronic stress can affect our health differently and can be the underlying cause of main ailments such as anxiety, depression, fatigue, exhaustion, digestive disorders, poor immunity, infertility, headaches, poor immunity, infertility, headaches, poor memory and concentration and high blood pressure. As you can see managing your stress now is very important to prevent it from impacting your health and wellbeing.
So how can Naturopathy help you manage your stress? Naturopathy can help you become more resilient to the symptoms and long-term effects of stress through the use of herbal and nutritional medicines and dietary and lifestyle advice. Clinical studies have shown that adaptogenic herbs are effective in reducing both physical and mental fatigue during times of stress as well as reducing the stress hormone cortisol via its effects on the adrenal gland.
Naturopathic treatment will help your body respond better to stress therefore improving your overall health and resulting in improved energy, vitality and resilience.
So the big question is …… Are you Stressed?
Do you suffer from the following?
Ongoing fatigue and exhaustion
Feeling run down
Decreasing ability to cope with stress
Depression and low moods
Anxiety and panic attacks
Difficulty getting out of bed
Poor stamina and exercise intolerance
Poor digestion
More prone to illness and infection, slow to recover
Feeling mentally foggy, difficulty concentrating
Non-refreshing sleep and sleep disturbance
If you answered yes to two or more symptoms from the above list you may benefit from the Karrinyup Wellness Centre's Stress Less Program. Book a Complimentary Assessment with one of our Naturopaths to further discuss the Stress Less Program.
Source: http://www.lifeline.org.au/About-Lifeline/Media-Centre/Media-Releases/Media-Release-Files/Stress-Less-with-Stress-Down-Slippers