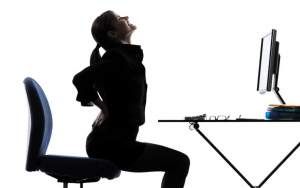 The negative impact of a sedentary lifestyle has become well known throughout the world. Movement has become more important for longevity in a world that sits more.
Sitting puts more pressure on your spine as compared to standing. A high percentage of people with back pain report sitting for hours or have sedentary lifestyles. Movement hydrates the discs in your spine and keeps blood flowing to provide nutrients, this means quicker recovery and prevention of injury all together.
Long hours sitting increases the risk of disc and spinal injuries, particularly in the low back. With more injuries and abnormal posture spinal degeneration begins earlier in life.
When people sit they often end up in a slumped posture. A slumped posture compresses the stomach and intestines. This decreases the body's ability to digest and absorb nutrients. Over time, core strength can also be lost.
Slumping also puts the hips into a position of long term flexion. In this position the psoas muscles, which connect to the lumbar vertebrae, and to the femur, tighten, the gluteal muscles become weak, and the hips lose their range of motion.
In the elderly population these physical consequences can increase the likelihood of a fall. Falls in the elderly increase the risk of death in the following 3 to 5 months by 5 to 8 times! Beside the fact that more falls equals an increased risk in fractures resulting in a decreased quality of life thereafter.
If you are sitting anywhere for a prolonged time, it is recommended to get up and move every 30 minutes.
Data from the 2016 United Kingdom Women's Cohort study suggests that even fidgeting is more beneficial than no movement at all. A gentle 10 minute movement routine can prevent any blood flow damage which can occur with three or more hours of sitting. Loss of blood flow by just 1% can increase an adult's risk of heart disease by 13%.
Movement is life. Your ability to move can reduce the development of some of the most common spinal injuries and chronic diseases known in the world.
Call the Karrinyup Wellness Centre on 9341 3020 to book a Complimentary Spinal Assessment and find out how prolonged sitting is impacting your spinal health.

Dr Jason Perry
Chiropractor
References
Mengjie Huang*, Khatereh Hajizadeh, Ian Gibson, Taeyong Lee: Analysis of compressive load on intervertebral joint in standing and sitting postures. Technol Health Care. 2016;24(2):215-23.
Gareth Hagger-Johnson, PhD, Alan J. Gow, PhD, Victoria Burley, PhD, Darren Greenwood, PhD, & Janet E. Cade, PhD: Sitting time, fidgeting, and all-cause mortality in the United Kingdom. September 23, 2015DOI:https://doi.org/10.1016/j.amepre.2015.06.025
Ali M McManus, Philip N Ainslie, Daniel J Green, Ryan G Simair, Kurt Smith, & Nia Lewis. Impact of prolonged sitting on vascular function in young girls: Exp Physiol. 2015 Nov;100(11):1379-87.
Low physical activity and its association with other cardiovascular risk factors: A nationwide, population-based study. PLoS One. 2016 Aug 17;11 (8):e0160959. doi:10.13