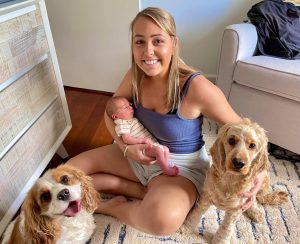 As a chiropractor, I am all about optimizing the health of the human body, creating an ideal environment to develop grow and thrive, whether that's physically, chemically or emotionally. A few hours after entering the hospital Mr. Dominic was born but in no way even close to my ideal for my health, not to mention birth. This was medical, all about keeping baby Dom alive, needles, drugs, sterile equipment and machines beeping. Nowhere near my plan to bring my baby into the world in a calm, drug free environment where essential oils fill the air and soft music tracks playing in the background. My vision of Ryan by my side with excitement in his eyes, there was none of that. I couldn't even have skin-to-skin and initiate breastfeeding. This was probably my one true wish for birthing. There I was, hearing my baby cry and then he was whizzed over to a resuscitation station, Ryan following and watching over him. I'm lying there defenseless, can't move, definitely not all together, eyes full of tears. Was fear involved? It certainly was, I was facing every one of the things on my not ideal list.  I was actually surprised that my most dominant emotion was that I felt p*#sed off. I was genuinely angry that I was on my back in theatre, spinal block in place; no options were given to be able to decide on. All decisions where taken out of my hands because this was life and death. 
I needed to have major abdominal surgery and I had no choice but to trust in the professionals around me of whom most I'd met that morning. Every day we faced a new challenge with Dom's health, all whilst trying to get on top of my recovery. Constant checking of oxygen saturation levels, blood sugars and temperature control, all on a little human weighing less than 2kg. He had every limb and even his nose occupied by a medical device. It was hard to watch and all from outside a clear box that he lay in. Being the independent woman I've always been, not being able to roll in bed and pull up my own undies for days was definitely more of a mental challenge than physical. Accepting to just take the time to properly recover was so hard when I just wanted to get up and take my baby home. Not being able to touch my baby for the first day after birth was tough, he couldn't come to me due to needing oxygen support and being in the special care nursery and I couldn't go to him because of stitches and numbness. I was frustrated as I was on heavy meds for pain relief and I couldn't think straight or focus my eyes not to mention make informed decisions on my son's health. Once again not ideal, these decisions are critical and I was compromised. For someone who didn't want any drugs involved, I was on them all, all at once. What I did learn from this hospital stay is that modern medicine has an incredible place in our world and you just never know when you'll need to fall back on it. Was it overwhelming? On so many levels but am I indeed grateful, very much so. In the situation I found myself in I couldn't have asked for a better team, hospital and outcome. Moving forward to over three weeks in hospital, my sanity was compromised but I am also filled with huge levels of gratitude. The village of people who showed such love and support was awesome to witness first hand.  
I hope to not have to use it very often, if at all but I am also so grateful. I learnt to surrender and trust and its not until your neck deep in the mud, do you find the resilience, strength and a strange level of calm within yourself. Both Dom's recovery and mine has been handled with the utmost professionalism and genuine care.  I am also grateful I know all of the things I needed to utilise to ensure a quick recovery, this was second nature, I didn't have to think hard. I felt at peace knowing that I could shine and have power in a component of his and my health. I knew how to aid the modern medical world in helping Dom thrive in this world, in which he is 6 weeks too early for. In what felt like it was going to last forever, after three weeks we were both healthy and we had some one on one alone time to bond without machines, midwives and doctors and it was bliss. If at any point in your life you feel overwhelmed and fearful, take a breath, pick something you can influence and be grateful for the lesson you will learn on your own self. 
– Dr. Shinae Brownrigg