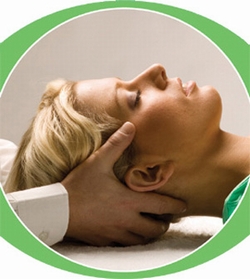 What is it?
Craniosacral therapy (CST) is a gentle, non-invasive modality that seeks to find restrictions through the body systems.  It supports the Central Nervous System so the body can self-correct and heal naturally.
Who does it?
Our very own Massage Therapist, Veronica Plej is specially trained in CST and will be able to help anyone interested in utilising this amazing technique.
Who can benefit from it?
Everyone! Babies are especially important to get checked, but all children and adults will benefit greatly from this therapy treatment.
Craniosacral Therapy is an effect in a wide range of both acute and chronic issues which include:
Headaches/migraines
Chronic back and neck pain (chiropractic and craniosacral treatment complement each other)
General musculoskeletal pain
Tinnitus
TMJ dysfunction
Post dental work
Visual disturbance
CNS disorders
Fibromyalgia/Chronic Fatigue Syndrome
Neurovascular and immune disorders
Hormonal imbalances
Stress and tension problems
Anxiety
Emotional Trauma
Craniosacral Therapy for Babies and Children
Common reasons to seek CST for children/babies include:
Difficult birth – long labour during the pushing stage, caesarean birth, ventouse or forceps delivery
Breastfeeding challenges/latching issues
Tongue or lip tie
Fussy, hard to soothe babies
Infant tends to only turn to one side
Sleeping concerns
Misshapen head – bumps or ridges
Digestive issues including colic, reflux and constipation
Craniosacral Therapy for Older Children
In older children the following issues can be helped with CST:
Braces
Headaches/migraines
TMJ syndrome
Learning challenges
Auditory and sensory processing disorders
Speech and language development
Gross and fine motor skill development
Seizure disorders
Anxiety (self-regulation dysfunction)
Chronic ear infection