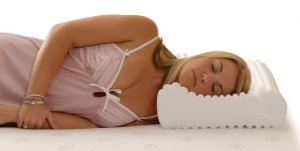 After tackling 2021, the year of unknowns, I decided to venture to the South West to take time to reflect on the past year and recharge my batteries for the year ahead. Exploring the South West region is one of my favourite things to do in Western Australia. With all the amazing wineries, food and beaches, the endless choices make it hard to choose. But if I was to choose one thing that I could do differently for my next down south adventure, it would be to bring my own pillow!
It is not uncommon to wake up with a headache, stiff neck and/or feeling unrested when you are sleeping with a pillow that is not suited to you. And, unfortunately during my time away, I suffered from a range of these symptoms and have put it down to the pillow I had been using.
Choosing the right pillow for you individually can be very difficult, but I am here to give you some tips for choosing the correct pillow for you!
What position do you sleep in? 
Depending on what position you sleep in, will determine what kind of pillow suits you. 
Side sleepers– When sleeping on your side, the pillow should take up a significant amount of space between your shoulders and your neck. This is to ensure that your neck is supported. 
Back sleepers– when on your back, the pillow should support the natural curve of your neck. It should not be too thick as this will force your neck into flexion. 
Stomach sleepers– Firstly, if you are a stomach sleeper, I would highly suggest changing to one of the other positions as this can create problems throughout your low back. If you can't seem to break the habit or you have to sleep on your stomach, the pillow should be reasonably flat or you may have no pillow at all. This is to prevent the neck from being extended and twisted for prolonged periods.
What material do you like?
There are many options of material when it comes to choosing a pillow. Memory foam, feather, gel, latex etc. Personally, I prefer memory foam and recommend this to all my patients, as it helps retain the neck's natural contour. A pillow that is size adjustable can also help in choosing what pillow is the most comfortable for you.
How firm do you like your pillows?
Good quality memory foam pillows are often firmer than other types of materials. Comfort is important but remember, the pillow also needs to provide proper support for your spine.
How much are you willing to spend?
As you are probably aware, the price of pillows can vary drastically. As sleep is one of the most important things we as humans need to do everyday, I personally believe a pillow is worth the investment. Higher end pillows tend to last longer and don't need to be changed as often as various cheaper pillows.
The aim when choosing a pillow is to try to make sure you have good spinal alignment whilst using it. Keep in mind that it can also take a few days to get used to your new pillow, so persist with it and you will hopefully be having a much better sleep in the near future. 
If you are experiencing neck pain or back pain that is affecting your sleep, book in for a free Complementary Assessment at Karrinyup Wellness Centre to see if we can help. 
Happy pillow shopping!
Dr Emily Udiljak 
Chiropractor