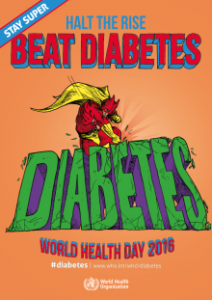 In celebration of World Health Day on the 7th April 2016 "Beat Diabetes", let's have a look at what we can do to prevent type 2 diabetes.
Diabetes is a serious metabolic condition characterised by the body's inability to regulate its blood sugar levels adequately due to insulin insufficiency and/or insulin resistance
Around 1.7 million Australians are currently living with diabetes, Australia's fastest growing chronic disease. The vast majority of diabetes is Type 2.
The great news is numerous studies have shown that type 2 diabetes can be prevented or delayed through lifestyle intervention. Lifestyle interventions such as maintaining a healthy weight, being physically active and following a healthy eating plan can reduce your risk of developing type 2 diabetes by up to 60% and in clinical trials this has even shown to be more effective than drug treatment.

ARE YOU AT RISK?
Risk factors for type 2 diabetes include:
Over weight and Obesity
Age
Family history of type 2 diabetes
Sedentary Lifestyle
History of gestational diabetes
Smoking

What can you do to prevent Type 2 Diabetes?
Adopt a Mediterranean style diet

Clinical studies have shown that the Mediterranean diet was associated with better blood sugar control and improved cardiovascular risk factors such as cholesterol levels as well as a 49% increased probability of remission from type 2 diabetes. A Mediterranean diet includes incorporating fresh fruit and vegetables, nuts and seeds, beans, whole grains, fish and olive oil.
Incorporate antioxidant rich foods

Vitamin E intake and the carentoid β-cryptoxanthin intake were significantly associated with a reduced risk of type 2 diabetes according to a study conducted in Finland. Foods rich in vitamin E include: sunflower seeds, almonds, spinach and avocado. Foods rich in β-cryptoxanthin include: Red capsicum, pumpkin and squash.

Cinnamon

One of the oldest spices known and one of my favourite. Used in Ancient Egypt where it was considered more precious than gold and cinnamon is also mentioned in one of the earliest books on Chinese botanical medicine. So how can it help with your blood sugars? One study showed that the intake of 1, 3, or 6grams of cinnamon a day reduced blood glucose, triglyceride, LDL and total cholesterol in type 2 diabetics.

Add cinnamon to smoothies, natural yogurt, raw protein balls and grapefruit.

Magnesium

There is a strong association between low blood magnesium levels and type 2 diabetics thus supplementation with magnesium in people with type 2 diabetics has shown in clinical studies to improve insulin action, enhance glucose metabolism and improve blood glucose levels.

Foods rich in magnesium include: spinach, pumpkin seeds, quinoa and cashews.

Exercise

Exercise has many wonderful health benefits especially in helping to control blood sugar levels. Exercise increases insulin sensitivity making your cells better at utilising any available insulin therefore it will help with the uptake of glucose into the cells before and after training. Also when your muscle contracts during training this will aid in the uptake of glucose into the cells without the use of insulin. Depending on the type of physical activity and its effect on blood glucose, exercise can lower blood glucose levels up to 24 hours or more after your workout.
Lastly, foods to avoid to stop your blood sugar levels from spiking include refined processed foods such as white sugar, white flour, high fructose corn syrup, corn syrup etc. It is therefore recommended that cakes, biscuits, soft drinks, ice cream, lollies, sweets etc are removed from your diet!
By Natasha Norton
BHSc (Naturopathy)