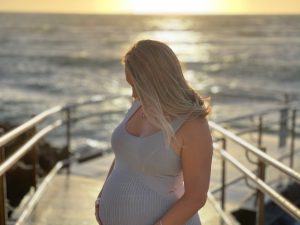 There was many times when I had physical discomfort during pregnancy, interrupting my sleep, movement and therefore affecting where my head was at. I'm sure you can all relate to when you have a back pain or headache and you're just generally off your game. I'm not very tolerant to not feeling my best. This is because I've been well adjusted my whole life and had the luxury of a chiropractor close by who I can pop in and see. I know if I'm well adjusted then I can be my best so when I'm not I know that something is interfering with my nervous system. This could be because I've indulged a little on the weekend or been more inactive, there are many reasons. Chiropractic really helps me perform at my best, keeps me on task as I don't have those bodily pains affecting my focus. During pregnancy I was getting adjusted weekly, sometimes more and if there is one recommendation I'd give to any expecting mum is to do just that. Get adjusted regularly from the get go. Your body goes through so many changes, not only physically but chemically with hormones and emotionally as it is a huge life transition. 
Getting a chiropractic adjustment will help reduce the interference between your brain and body so you can feel your optimal self. In pregnancy there is something changing everyday as your body grows the beautiful soul inside of you. This is hard work and therefore stress on your body. Help your body out and reduce that stress with an adjustment. Not only that but you can then optimise your body for birth and breastfeeding as well as help you think clearer so you can make the right decisions in the heat of the moment and not be battling with brain fog. 
A lot of my patients who have never been adjusted before and come for their first adjustment often comment how they didn't realise how much brain fog they were dealing with. This was their normal and they didn't know any different. Often pain and discomfort is considered normal, but it's actually your body trying to communicate to you that something is wrong. Pain and discomfort in a healthy person is common but not normal. So if you want to feel your best through pregnancy, if you've just had a baby and are feeling the strain on your body from breastfeeding, it isn't too late to optimise your health. Book your initial consult at the Karrinyup Wellness Centre today and let us assess your concerns to see if we can help. 

Dr Shinae Brownrigg