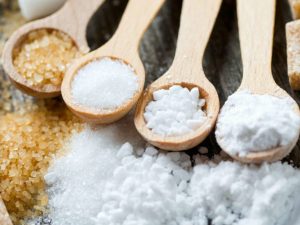 With Christmas just around corner we all know what that means – tasty food galore and lots of it! One thing I always find over this period, and I'm sure I'm not alone, is I am having a much higher than usual intake of sweet and sugary foods. Partly because this food is always around over the holiday period and partly because it's so delicious and difficult to resist! Something that comes with this increased amount of sugar intake is the effect it has on different aspects of our health.
There are quite a few widely known negatives commonly related to prolonged excess sugar consumption such as increasing the risk of chronic diseases, weight gain and tooth decay. One other negative health effect which isn't so widely known is the link between diets high in sugar and inflammation.  
Inflammation is the body's way of protecting itself from infection due to various things such as bacteria, viruses, fungi and other foreign substances. When we talk about inflammation we are often talking about either acute (recent inflammation – think red, swollen, hot and painful) or chronic inflammation (think slow, long-term inflammation accompanied by pain, fatigue and various other possible body symptoms such as a low mood, difficultly sleeping, weight gain, digestive issues and frequent infections). So how exactly does excess sugar contribute to these symptoms?
What an increasingly large number of studies have found is a diet consistently high in sugar, in particular refined sugars can lead to and increase the risk of chronic inflammation. Refined sugars are found in foods such as soft drinks, lollies, sports drinks, cakes and white bread and pastas – a lot of which we indulge in a little more over the holiday period!
Sugar contributes to inflammation by promoting various changes in the body which affect different body systems. Sugar can result in damaging the gut lining as excess amounts allow bacteria and toxins to more easily permeate the lining and enter the bloodstream in turn leading to inflammation. An increase in weight and increased difficulty controlling weight is associated with high sugar diets and both of these things are linked with insulin resistance with is associated with inflammation. Higher "bad" cholesterol (LDL – low density lipoproteins) levels increase with refined sugar and it is though there is a direct relationship between LDL and a marker in inflammation – C – reactive protein. Finally, more compounds called advanced glycation end (AGE) products form due to the interaction of refined sugar and fat or protein in the blood and the AGE's can contribute to inflammation.
Of course sugar isn't the only thing we eat or drink that can lead to inflammation. The risk of inflammation can also be increased by various other foods which are high in saturated and trans fats (fast food and fried food for example), alcohol and MSG (found in some Asian foods). Along with food, other factors which we can control such as high BMI and obesity can also contribute.
So, needless to say, enjoy yourself over Christmas and the holiday period and be kind to yourself. In spite of this also look after your body with nourishing foods, rest and movement, try to keep stress levels to a minimum and enjoy some of our beautiful sunshine and fresh air. The holiday period is made for enjoying!
Dr Katie Hooper
Chiropractor
References
Aeberli, I., Gerber, P. A., Hochuli, M., Kohler, S., Haile, S. R., Gouni-Berthold, I., . . . Berneis, K. (2011). Low to moderate sugar-sweetened beverage consumption impairs glucose and lipid metabolism and promotes inflammation in healthy young men: A randomized controlled trial. The American Journal of Clinical Nutrition,94(2), 479-485. doi:10.3945/ajcn.111.013540
Boer, M. M., Wetten, M. V., & Pruimboom, L. (2012). Chronic inflammatory diseases are stimulated by current lifestyle: How diet, stress levels and medication prevent our body from recovering. Nutrition & Metabolism,9(1), 32. doi:10.1186/1743-7075-9-32
Chappey, O., Dosquet, C., Wautier, M., & Wautier, J. (2003). Advanced glycation end products, oxidant stress and vascular lesions. European Journal of Clinical Investigation,27(2), 97-108. doi:10.1046/j.1365-2362.1997.710624.x
Corte, K. D., Perrar, I., Penczynski, K., Schwingshackl, L., Herder, C., & Buyken, A. (2018). Effect of Dietary Sugar Intake on Biomarkers of Subclinical Inflammation: A Systematic Review and Meta-Analysis of Intervention Studies. Nutrients,10(5), 606. doi:10.3390/nu10050606
Frazier, T. H., Dibaise, J. K., & Mcclain, C. J. (2011). Gut Microbiota, Intestinal Permeability, Obesity-Induced Inflammation, and Liver Injury. Journal of Parenteral and Enteral Nutrition,35(5_suppl). doi:10.1177/0148607111413772