The Foam Roller
Most people have seen foam rollers being used, whether at the gym or in advertising at some point. In case you have never seen a foam roller and have no idea what they are, a foam roller is a lightweight cylindrical tube of compressed foam that can be either long or short – as seen in the pictures below.
It is an incredibly versatile piece of equipment and can be used for a variety of reasons, including: increasing flexibility, for warm-up or cool-down before and after exercise, decreasing muscular soreness and tension, eliminating or reducing muscular trigger points and improving/adjusting postural position via stretching. The process of using the foam roller on the muscles is known as Self-Myofascial Release (or SMR) and mimics the way a physical therapist will sometimes work on your muscular tension and tightness.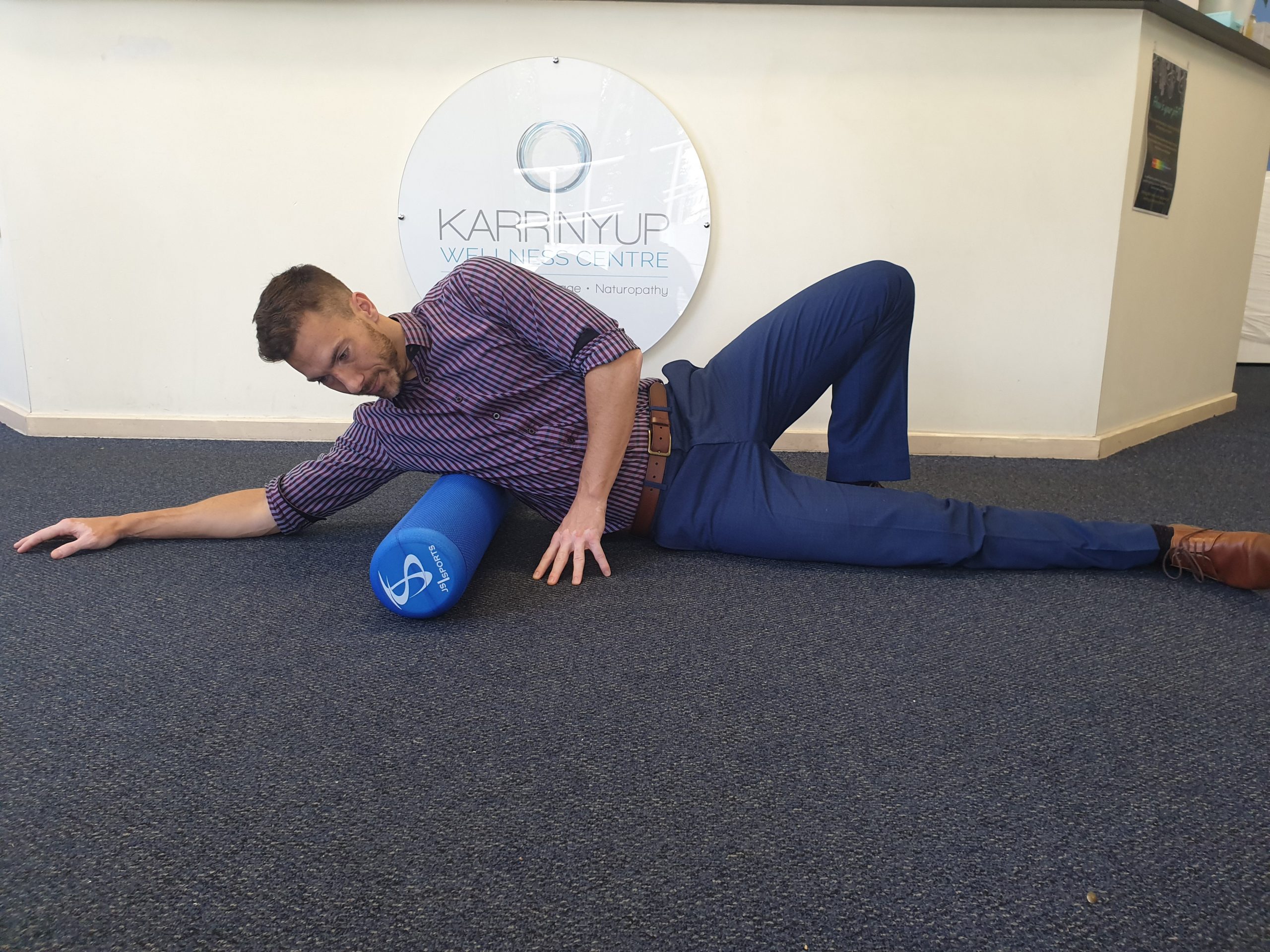 WHEN TO ROLL – WHAT DOES THE SCIENCE SAY?
Before you Exercise
Using the foam roller prior to physical exercise, also known as pre-rolling, has been found to have great benefits in various aspects of sporting performance and recovery. Various studies have noted statistical improvements in these areas (when the test subjects performed a short session of SMR on the foam roller prior to exercise):
– muscular efficiency
– endurance
– flexibility
– sprinting performance 
This means that throwing in a few minutes on the foam roller for each muscle group you'll be using when you workout is a handy way to get the most out of your workouts and speed up your recovery, PARTICULARLY if you are doing anything that involves running or flexibility! Neat!
After you exercise
Using a foam roller for SMR after physical exercise is known, as you might have guessed here, as post-rolling. This cool-down technique also comes with benefits to performance and recovery – however the statistics have shown that it benefits us in a slightly different way to pre-rolling. The positive changes associated with foam-rolling after exercise include:
– enhanced ability to sprint and perform strength movements after a workout (so you can go stronger for longer)
– reduced muscle pain
– reduced fatigue
– improved agility
This indicates that foam rolling after your workouts is beneficial for recovering faster and retaining more energy, and can particularly help people who have physically demanding jobs or those who workout in the gym – AWESOME!!!
Any other time
The foam roller can also be used at any time, even away from exercise, to help reduce muscular tension. If you are looking to improve joint flexibility or working on your postural position, the foam roller is incredibly useful and (when coupled with stretching) has been shown to improve flexibility more efficiently than just stretching on it's own.
WAYS to use your foam roller
There are a variety of ways to actually use a foam roller, and your desired outcome in most cases will determine how you go about using it. Some people use it statically, simply by rolling a muscle up and down on the foam roller and imitating a passive massage.
Others will use it dynamically, which involves pinning a muscle between their body weight and the roller, then proceeding to move that muscle through it's full range of motion. This is known as an active muscular release, and is Dr Sean's personal favourite (yes, because he's a sadist).
For postural corrections, or improving spinal joint mobility, or complimenting your chiropractic care there are a couple of options. You can either passively lie on the foam roller as it runs down the length of the spine and opens up the rib cage OR you can lie back onto the roller as it runs across the spine and gently extend back over it to reverse a hunched-forward position in the upper back.
Check out the video below where Dr Sean Laurie, chiropractor demonstrates an easy postural exercise to improve rounded shoulders and reduce forward head position. 
If you'd like to book an appointment with Dr Sean you can call the centre on 9341 3020 or request an appointment here.
REFERENCES
Int J Sports Phys Ther. 2015 Nov; 10(6): 827–838.
PMCID: PMC4637917
PMID: 26618062
THE EFFECTS OF SELF‐MYOFASCIAL RELEASE USING A FOAM ROLL      OR ROLLER MASSAGER ON JOINT RANGE OF MOTION, MUSCLE     RECOVERY, AND PERFORMANCE: A SYSTEMATIC REVIEW
Scott W. Cheatham, PT, DPT, OCS, ATC, CSCS,1 Morey J. Kolber, PT, PhD,     OCS, CSCS*D,2 Matt Cain, MS, CSCS,1 and Matt Lee, PT, MPT, CSCS3
Front Physiol. 2019; 10: 376.
Published online 2019 Apr 9. doi: 10.3389/fphys.2019.00376
PMCID: PMC6465761
PMID: 31024339
A Meta-Analysis of the Effects of Foam Rolling on Performance and Recovery
Thimo Wiewelhove,1,* Alexander Döweling,1 Christoph Schneider,1 Laura Hottenrott,1 Tim Meyer,2Michael Kellmann,1,3 Mark Pfeiffer,4 and Alexander Ferrauti1
The Effects of Foam Rolling on Myofascial Release and Performance
Healey, K1; Dorfman, L1; Riebe, D1; Blanpied, P2; Hatfield, D1
Journal of Strength and Conditioning Research: March 2011 – Volume 25 –          Issue – p S30-S31
doi: 10.1097/01.JSC.0000395625.08079.28
Abstract: PDF Only