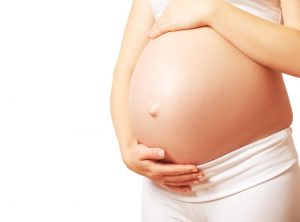 People warned me, trimester three will hit you hard, your energy dives, you swell, you ache, and your body can really physically struggle. "Most probably, you will sleep in a recliner towards the end, reflux can get worse, nest early, you'll be so tired" they all said. For me the physical struggle did come but not even close to how I expected. I was once again blind-sided and one Friday I some how tore my abs, no not a common abdominal separation. A grade two abdominal tear. This definitely took all my strength to yet again surrender to what my body needed. I could barely stand not to mention stand up straight, I couldn't lift, bend, walk or sleep. Everything felt like a sharp stabbing pain., hours and days on end. "Will I ever get back to work? Not I'm not ready for maternity leave, I am only 28weeks pregnant." If I go back to work it could get worse, all the possible fears rolled through my mind.  So I coached myself to just rest for as long as it takes, a few days at a time and see what happens. It took a good few days for me to move past anger and frustration. I kept saying, but I have been so good at resting how did this happen. The health professional in me, was very frustrated. I have studied, learnt, prepared and done all the things I could for a healthy pregnancy and I am still in this pickle. On day four and five I finally found myself able to surrender. The universe has spoken; it's time to rest. I tell you what, its bloody hard sitting at home looking at all the things that you need to do/want to do and cant. Cooking, cleaning, baby prep, dusting, and exercise, that stupid cobweb I've been staring at for days. So online shopping it was, J! 
I did make a recovery; I did everything in my knowledge to speed up the healing. I got back to practice and boy was I proud and relieved. A few weeks past in clinic, I was extremely careful to not over do it. I took every precaution, a little part of me was like, lets not drum this up but I also knew it was what was necessary to stay at work until 37 weeks as I planned. 
I reminded myself once again: 
♥ Pregnancy is beautiful, but the feelings aren't always pretty.  
♥ Pregnancy is a gift of life, but not always a reflection of my personal strength and knowledge. 
♥ Pregnancy is exciting, although confusing and difficult to logically understand the changes required by the body to grow a baby. 
♥ Pregnancy is sacrificing ones self for another. 
My all time favourite quote is from Pete Murray "don't be afraid of what you cannot see, your only fear is possibility." It reminds me that fear only talks to scare you away from danger; it's channels our deepest survival mode, its very effective at involving your ego too. Is everything we are thinking, really our true reality, is it honestly threatening our survival? No, it's just perceived, it's the possibility that something could go wrong or not how we desire. Whenever I can catch myself spiraling in a whirlwind of thoughts, usually a fearful "what if" of imaginary situations. I try to bring myself back to the true reality. This can still go in a few directions, some not good but some aren't so bad. Lets now channel some positive energy towards the best possible outcome and take each day as it comes. Usually things don't turn out anything close to those fearful thoughts that surfaced in the very beginning of taking on new unforeseen information. Usually I look back and think, why do I let myself worry. Unfortunately our innate knowledge of survival is far stronger than our conscious mind but we do have the power to consciously take back some of that control and work through surrendering those fears. Trimester 3 wasn't all so bad, I was accepting of my limitations and positive. 
Little did I know this past 8 months was prepping me for one major plot-twist. One calm Monday morning, prepping for my 2nd last week of work, Christmas is 9 days away. Energy is good, sleeping is back to a comfortable normal-ish. Limited activity but able to work so pretty happy with where I am at. Only a few more clinic shifts and then it's the Christmas holidays. Stay tuned for the biggest curve ball yet and the ultimate surrender. 
This my friends is the pregnancy glow, its surrendering to the greater miracle inside of you.  Not just the growth inside of you but your own personal growth in becoming a mother. It is accepting that this child from here on out is going to challenge you, deep to your core and help you realize what a strong person you are. I know that personal growth is something I have always strived for and this beautiful boy has been the toughest coach yet. I am grateful for the lessons to surrender, I am so grateful I know to surrender. If I do not then how can I possibly glow? 
Dr. Shinae Brownrigg