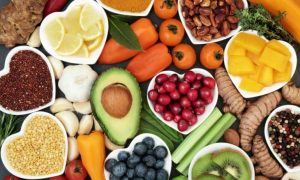 This winter, more than ever, we need to look at ways to support our immune system naturally.  We are blessed in Australia to have an abundance of food available to us so what better way to nourish our body and support our immune system than to eat well.
What we eat determines how well our body functions.  Our food is our fuel.  Think of a petrol car  – it won't run on diesel.  Our bodies are the same.  It needs wholefoods that are full of nutrition to protect and heal and support the immune system. When you give your body the wrong 'fuel' such as processed foods with chemicals, preservatives and additives, as well as bad fats and high sugary foods, this can lower the immune system and slow digestion.  These foods are lacking in nutrition and are hard for the body to process. Vegetables and fruit are packed full of vitamins, minerals and antioxidants to support your immune system so increasing these in the diet in winter is important. 
It is often tempting when its cold and you are spending time inside to reach for those sugary treats or fast convenience foods, so here are some suggestions to help nourish your body and support your immune system this winter.
Fruit and vegetables
Citrus fruits such as oranges, lemons, mandarins and limes as well as seasonal winter foods like kiwi fruit, red and green peppers, broccoli, tomato and potatoes are packed full of vitamin C.  Vitamin C is a wonderful immune modulator and studies have shown it is an effective preventative against the common cold plus it can reduce the duration and severity of a cold.  So it makes sense to include high vitamin C foods in your diet to support your immune system.
Soups and stews
The ultimate winter food – warming, nourishing and comforting.  The best thing about soups and stews is that you can load them up with nutritious winter vegetables such as swedes, carrots, parsnips, spinach, sweet potato and pumpkin.
Mushrooms
Mushrooms contain beta-glucan, a natural polysaccharide that can boost our innate immune defence.  Add these to soups or stew or lightly fry in olive oil or steam and enjoy with breakfast.  Try some different varieties such as shiitake and reishi mushrooms.
Go nuts for nuts and seeds
Nuts and seeds are good sources of zinc, a mineral that is integral to the functioning of the immune system.  Zinc helps deploy white blood cells at the first sign of a disease-causing invader, such as a virus or bacteria. It has also been shown to reduce the duration of a cold.  Other foods high in zinc are oysters, crab, lean beef and chicken, beans, peas and chickpeas.
Spice up your life
Add some ginger and garlic to your meals.  Garlic has been shown in studies to help prevent getting a cold and can help reduce the duration of a cold too.  Ginger is a warming spice and is anti-inflammatory too.  Add to soups, stews, and smoothies.
This winter eat foods that are in season and that are grown locally – they will be fresher, tastier and more nutritious.   It also helps support local farmers.
If you need support for your immune system this winter speak to our Naturopaths who will formulate a health care plan specific to you.
Yours in health
Jeanette Gee
Naturopath
References
Akramiene, D., Kondrotas, Q., et al. (2007). Effects of beta-glucans on the immune system. Medicina (Kaunas), 43(8):597-606. https://pubmed.ncbi.nlm.nih.gov/17895634/
Hosseini, B., Berthon, B.S. et al. (2018). Effects of fruit and vegetable consumption on inflammatory biomarkers and immune cell populations: a systematic literature review and meta-analysis. American Journal of Clinical Nutrition, 108:136-155.
Josling, P. (2001). Preventing the common cold with a garlic supplement: A double-blind, placebo-controlled survey. Advances in Therapy,18(4):189-193

Mao Q.Q., Xu X.Y., Cao S.Y., Gan R.Y., Corke H., Beta T., Li H.B., (2019),

Bioactive Compounds and Bioactivities of Ginger (Zingiber officinale Roscoe). Foods.8(6):185. doi: 10.3390/foods8060185
Prasad A.S. (2009) Zinc: role in immunity, oxidative stress and chronic inflammation.

Curr Opin Clin Nutr Metab Care

12(6):646-52. doi: 10.1097/MCO.0b013e3283312956.

Ran, L., Zhao, W., Wang, J. et al. (2018). Extra dose of viamin C based on a daily supplementation shortens the common cold: A meta-analysis of 9 randomized controlled trials. BioMed Reseach International. https://doi.org/10.1155/2018/1837634.
Wintergerst, E.S., Maggini, S. and Hornig, D.H. (2006). Immune-enhancing role of vitamin C and zinc and effect on clinical conditions. Annals of Nutrition and Metabolism. 50:85-94