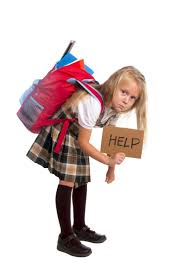 Each year Chiropractors grow more concerned about the life-long spinal problems that can be caused when children fall victim to school yard fashion trends and carry "trendy" but poorly designed school bags.
As Australian children head off to school every day, up to 70% of children are risking preventable spinal damage by carrying badly fitted or overloaded bags. Many of the current bags that children are using may be fashionable but unless they allow for even weight distribution, they can cause symptoms such as back and neck pain, headaches and numbness or tingling in the arms. Studies show a direct connection to these problems being associated with an overloaded, poorly-fitting back pack.
By the age of 40 a large percentage of our population will suffer from chronic spinal disability and it is becoming apparent that adult back pain and spinal disorders can stem from childhood activities, including carrying a heavily loaded bag for 12 years.
Figures from research published in the Scandinavian Journal of Rehabilitative Medicine have shown that 68.6% of children using hand held bags and 53.7% of children carrying a bag on one shoulder are experiencing back pain. Using a back pack instead of a carry bag can reduce the incidence of back pain by more than 23% but this is only when the back pack is worn correctly over both shoulders. This is not only important for minimising pain but also helps avoid curvatures of the spine.
Also, school back packs are felt to be heavy by 79.1%, to cause fatigue in 65.7% and to cause back pain in 46.1%. Be aware that if your child leans forwards whilst carrying the bag it is probably overloaded.
Spinal function can be assessed by a simple check-up with your chiropractor. Early detection and attention to spinal problems can make a lifetime of difference!
Vital tips for back pack safety and comfort:
Never carry loads weighing any more than 10-15% of their body weight.
Avoid carrying heavy bags for long periods of time.
Use a back pack rather than a carry bag.
Choose a back pack with wide, padded straps.
Adjust the straps so that the pack fits snugly against the back.
Wear back packs over both shoulders to distribute weight evenly and avoid curving the spine.
Choose a bag with multiple compartments to better distribute the weight.
Place heavier items closest to the back.
See your Chiropractor to have a posture check as well as a back pack assessment/fitting.This infographic explains exactly what can happen to your kid's body from travelling with all of that extra weight on their backs — and what you can do about it.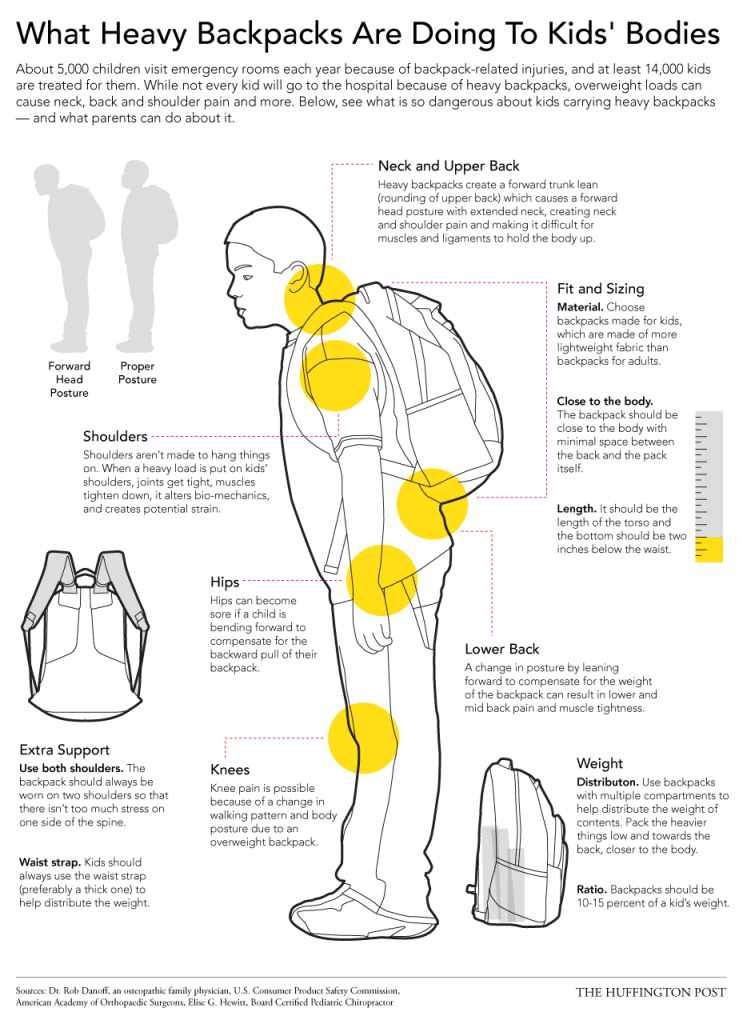 References
PosturePal Inc. (n.d) Forward Head Posture. Retrieved March 9, 2010 from http://www.posturepal.com/html/Forward_Head_Posture.html (HOMEPAGE)
Posturing for Wellness. Good Health Begins with Good Posture. (2001). Journal of the American Chiropractic Association. May 2001  (POSTURE & HEALTH)
Lyon, M., (2009). Posture – One of the Most Important Aspects of your Life!  Retrieved March 9, 2010 from http://www.networkwellnesscharlotte.com/posture-one-of-the-most-important-aspects-of-your-life/ (POSTURE & HEALTH)
Tips to maintain good posture. (n.d.) American Chiropractic Association. Retrieved March 11th 2010 from http://www.acatoday.org/content_css.cfm?CID=1452 (POSTURE & HEALTH)
Ohio State University (2009). Body Posture Affects Confidence In Your Own Thoughts, Study Finds. ScienceDaily. Retrieved March 9, 2010, from http://www.sciencedaily.com/releases/2009/10/091005111627.htm (POSTURE & HEALTH)
Sabino, J., & Grauer, J.N. (2008) Pregnancy and Low Back Pain. Current Reviews in Musculoskeletal Medicine 1, 137-141 (MUMS)
Ventura, J. Back pain and pregnancy. (n.d.) Retrieved 9 March, 2010 from http://www.posturepal.com/html/back_pain_and_pregnancy.html. (MUMS – COMMON POSTURE PROBLEMS)
Lavelle, P. (2005). Fact File: Back pain. Retrieved 11th March 2010 from http://www.abc.net.au/health/library/stories/2005/04/24/1829000.htm (OFFICE)
Macfarlane, G.J., Thomas, E., Papageorgiou, A.C., et al. (1997). Employment and Physical Work Activities as Predictors of Future Low Back Pain. Spine, 22 (10), 1143-1149 (OFFICE)
Choudhary, B.S., Sapur, S., Deb, P. S. (2000) Forward Head Posture is the Cause of 'Straight Spine Syndrome' in Many Professionals. Indian Journal of Occupational and Environmental Medicine  4 (3), 122—124. (OFFICE PROBLEMS)
Ruud, M. (n.d.)Proper Posture for Computer Use. Retrieved on March 12th 2010 from http://hubpages.com/hub/Proper_Posture_for_Computer_Use (OFFICE CORRECTING PROBLEMS)
Ergonomics in Australia. (n.d.) Retrieved March 12th 2010 from http://www.ergonomics.com.au/pages/400_useful_info/420_how_to_sit.htm (OFFICE CORRECTING PROBLEMS)
Spine-Health. (n.d.) Retrieved March 14th 2010 from http://www.spine-health.com/conditions/back-pain (OUTDOORS)
Routley, V. Ozanne-Smith, J. (1995) Prevention of Injuries associated with Do-It-Yourself Activities. Monash University. Accident Research Centre. (OUTDOORS)
Kado, D.M., Huang, M-H., Barrett-Connor, E., Greendale, G.A. (2005) Hyperkyphotic Posture and Poor Physical Functional Ability in Older Community-Dwelling Men and Women: The Rancho Bernardo Study. Journals of Gerontology: Biological Sciences. 60(5), 633-637 (OUTDOORS POSTURE PROBLEMS)
Bean, P. (2009). Ecollo website. Retrieved march 14th 2010 from http://www.ecollo.com/post/2009/03/Common-gardening-injuries-and-how-to-avoid-them.aspx (OUTDOORS CORRECTING PROBLEMS)
Negrini, S., & Carabalona, R. (2002). Backpacks on! Schoolchildren's Perceptions of Load, Associations With Back Pain and Factors Determining the Load. Spine, 27(2), 187-195. (KIDS)