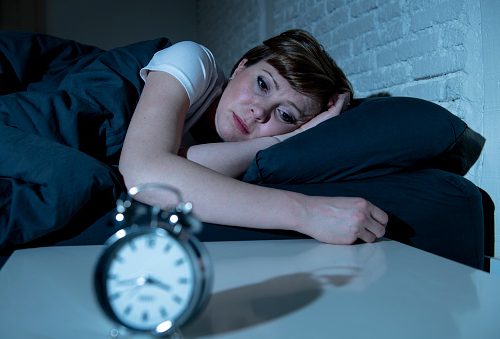 Everything feels worse after a bad night sleep. A recent study showed that as little as two consecutive nights of insufficient sleep (4.5hrs) resulted in detrimental changes to the microbiome (our intestinal flora) – the study showed the beneficial bacteria were reduced by 50%. To make things worse, the study participants became about 20% more resistant to insulin—and their microbiomes began to resemble those of obese individuals.
And trying to catch up on sleep with short naps doesn't counteract this. When the circadian rhythm is disrupted it can change the composition of the microbiome.  This is a problem for shift workers and people who fly a lot as they will have repeat sleep cycle disturbances.  This sleep/gut relationship is a two-way street. So not only does sleep impact the microbiome, but the composition of the microbiome also impacts mood, stress levels, weight, and even the perception of pain, which then impacts and affects our sleep …. vicious circle.
Don't forget our gut has over 100 million neurons and 30 types of neurotransmitters – it is referred to as our 2nd brain.  Our sleep hormone melatonin is made from serotonin, a neurotransmitter often called our 'happy hormone'.  And, interestingly, our gut contains over 90% of our body's serotonin.  Serotonin has a powerful effect on mood but it's also involved in regulating our body clock and sleep cycles, so how much serotonin we make has a real impact on our sleep.  Natural light, food and exercise, as well as our microbiome, all affect how much serotonin we make.
Ensuring a healthy microbiome is important not only for gut health but also for sleep. A diet rich in vegetables, fruit and fibre will encourage a healthy gut.  Probiotics are also important to support gut function.  There is a lot of excellent research on the benefits of probiotics for gut health and certain health conditions and I would encourage you to speak to a natural health professional about the best strains to take for your particular health concern.
So switch off the electronics, cut the coffee and jump into bed earlier to ensure you get at least 7-8 hours sleep a night. Meditation, warm baths and regular exercise can all contribute to a good nights sleep.
At Karrinyup Wellness Centre our Naturopath Jeanette Gee addresses all gut and sleep issues naturally with the support of herbs, vitamins, minerals and dietary changes. Call the centre on 9341 3020 and make an appointment today to see how she can help you.

References
Benedict, C., Vogel, H., Jonas, W., Woting, A., Blaut, M., Schürmann, A., & Cedernaes, J. (2016). Gut microbiota and glucometabolic alterations in response to recurrent partial sleep deprivation in normal-weight young individuals.

 

Molecular Metabolism, 5(12), 1175-1186. doi:10.1016/j.molmet.2016.10.003
Voigt, R. M., Forsyth, C. B., Green, S. J., Mutlu, E., Engen, P., Vitaterna, M. H., … Keshavarzian, A. (2014). Circadian Disorganization Alters Intestinal Microbiota.

 

PLoS ONE, 9(5), e97500. doi:10.1371/journal.pone.0097500
Moreno-Indias, I., Torres, M., Montserrat, J. M., Sanchez-Alcoholado, L., Cardona, F., Tinahones, F. J., … Farré, R. (2014). Intermittent hypoxia alters gut microbiota diversity in a mouse model of sleep apnoea.

 

European Respiratory Journal, 45(4), 1055-1065. doi:10.1183/09031936.00184314
Voigt RM, Forsyth CB2, Green SJ3, Mutlu E1, Engen P1, Vitaterna MH4, Turek FW4, Keshavarzian A. (2014). Circadian disorganization alters intestinal microbiota. PLoS ONE, 9(5), e9750. doi: 10.1371/journal.pone.0097500
Yano, JM., et al., (2015), Indigenous bacteria from the gut microbiota regulate host serotonin biosynthesis, Cell., 161(2): 264-276, https://www.ncbi.nlm.nih.gov/pmc/articles/PMC4393509/