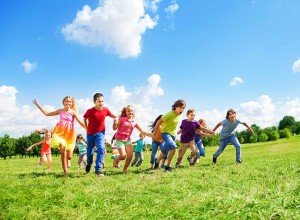 We live in a technological era. For children, it is exciting as it means effortless stimulation in front of a screen. For parents, it's an easy babysitter.  With research coming out about the effects on our bodies from sitting for extended periods there is concern about what it is doing to children and their developing bodies.
In Australia, only one-third of children do the recommended amount of daily physical activity, according to the Australian Bureau of Statistics, and two out of three children have more than 2 hours of screen time per day (considered the maximum amount recommended). With obesity rates rising, it is more important than ever to ensure children are moving.  It is recommended that a minimum of 60 minutes of moderate-intensity physical activity is done 3-5 times per week, and this activity should be a variety of leisure, play, games, sports – in teams and casually, and done at home, school and in the community.
Regular exercise can help children:
Maintain a healthy weight
Build strong muscles, bones and joints
Sleep well at night
Reduce stress and make them feel better about themselves
Increase learning in school
So, get your kids moving. Throw a ball, go to the park, ride a bike around the river, go walking in the bush or swim in the ocean or just play simple old-fashioned outdoor games with your kids.  Exercise is important for parents too!
Jeanette Gee
B.H.Sc (NAT)
Naturopath
REFERENCES
Davis, C.L., et al., Effects of Aerobic Exercise on Overweight Children's Cognitive Functioning: A Randomized Controlled Trial. Research Quarterly for Exercise & Sport, 2007. 78(5): p. 510-519.
Duncan, M.J., Y. Al-Nakeeb, and A.M. Nevill, Effects of a 6-week circuit training intervention on body esteem and body mass index in British primary school children. Body Image, 2009. 6(3): p. 216-20.
Ildiko, V., et al., Activity-related changes of body fat and motor performance in obese seven-year-old boys. Journal of Physiological Anthropology, 2007. 26(3): p. 333-7.
Lofgren, B., et al., Influence of a 3-year exercise intervention program on fracture risk, bone mass, and bone size in prepubertal children. Journal of Bone & Mineral Research, 2011. 26(8): p. 1740-7.
Nixon, GM, et.al., Falling asleep: the determinants of sleep latency, Archives of Childhood Disease, 2009, 94 (9): 686-689
Okely, A.D., et al., Multi-site randomized controlled trial of a child-centred physical activity program, a parent-centred dietary-modification program, or both in overweight children: the HIKCUPS study. Journal of Pediatrics, 2010. 157(3): p. 388-94.
Okely, T, et al., A Systematic review to inform the Australian sedentary behaviour guidelines for children and young people', 2012, Report prepared for the Australian Government Department of Health, www.health.gov.au
Okely, T, et al., A Systematic review to update the Australian physical activity guidelines for children and young people', 2012, Report prepared for the Australian Government Department of Health, www.health.gov.au