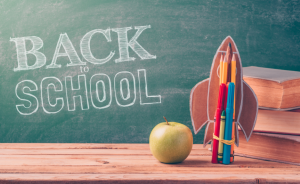 The school has been back now for 3 weeks and hopefully, all the kids are getting into the groove of a new school year and for some a whole new school and teaching environment. The school year didn't kick off as planned, with the snap 5-day lockdown here in Perth delaying schools' return, but now thankfully we are on track to enjoy the school year ahead.
I have noticed within the last few weeks; that a lot of kids have become quite anxious or their anxiety has been heightened from going back to school. Here are a few tips which will hopefully help –
Routine – a routine for kids at any age is vital, this allows them to leave the house in the morning free from stress, as they are familiar with their morning routine.

Prepping breakfast and lunches the night before – enables you to feel less stressed, so the kids will too.

Pack all bags, school bags and gym bags the night before – leave out their uniforms, shoes, and accessories as well, so there is no rushing around looking for bits and pieces in the morning

Make sure there is enough time to get to school – no rushing or being late.

A good breakfast – if your little one is a picky or slow eater, it might be worthwhile trialling an earlier wake-up time, so they have sufficient time to eat.
For the older kids, the same as above applies, but it is good for them to take responsibility as well, they can pack their own bags and set out their own uniforms etc, below are a few extras for older kids, especially those starting new schools –
Chat about expected goals for the year – that might be school work or extra-curricular activities. Let them explain first and if you feel a little more is expected, then you can discuss.

Sleep, sleep, sleep – it is given teenagers love to stay up to all hours of the night, getting a routine down pact can help this, also less screen time would be great, where possible.

Discuss any fears or stresses about the school, they have to feel like their worries are valid, so you can help get to the bottom of what is going on.
Another great tool to have for any age, from kindy right up to adulthood, is meditation. It can be an improvised form of meditation, especially for the younger kids, a simple sit down and talk about their day or sit down for 1 min and take a few deep breaths, the older kids can download an app perhaps to help them become a little more mindful, this will help with any stresses or worries they may have. A few great apps are Smiling Minds, Headspace and 1 Giant Mind.
Call and book in for a Complimentary Assessment to see if Kinesiology may help you or your child, especially with anxiety.
Dominique Mallon
Kinesiologist
Adv Dip. Kinesiology